Description
Integrated Refrigerator Freezer, 60cm
A compact refrigerator with bottom freezer, ready for you to add your custom cabinetry for a flush fit.
ActiveSmart™ technology helps keep food fresher for longer by constantly maintaining the ideal temperature

Choose a left or right hinge to suit your kitchen's layout

Customise with your own kitchen cabinetry

Spacious bottom freezer with easy-slide internal drawers to separate storage
.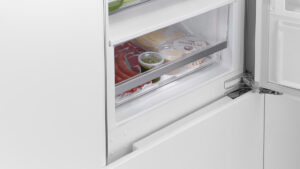 VARIABLE TEMPERATURE DRAWER
The variable temperature drawer is designed to allow optimal storage of fresh meat, produce, deli and dairy products at their ideal temperatures. Operating separately from the fridge and freezer, the drawer can be set at a temperature between -5°C and 3°C, with 3°C ideal for fruit and vegetables, -1.1°C perfect for fresh meats, and -3°C for fast chilling. Helping to keep your food fresher for longer.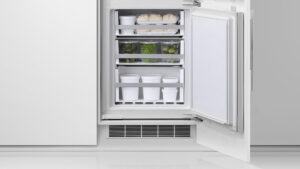 FAST FREEZING
When freezing fresh food, the freshness, texture and taste are retained with rapid freezing. The fast freeze function boosts the freezing speed by dropping the freezer to its coldest temperature (-24°C) for 12 hours, ensuring food is fast and fully frozen. Plus, you never need to worry about defrosting your fridge with the built-in frost-free function.
SIMPLE STORAGE
This refrigerator is designed to make it simple for you to store, access and remove food. Storage bins give you full access inside when they're pulled open and can be easily removed to clean. Adjustable shelving in the main cavity and door provide flexible storage options.
EASY INSTALLATION
Our integrated products are easy to install, whether you are renovating your kitchen or designing a new one. They are designed for minimal gaps with adjustable door panels that can be customised to match your kitchen.
BEAUTIFUL LIGHTING
Bright LEDs light up the ceiling, shelves, bins and tray in both refrigerator and freezer, making it easy to find your food and creating a welcoming glow in your kitchen for those midnight snacks.
EASY CLEANING
Spill-safe secure glass shelves easily capture any drips or leaks and prevent them from falling on items below.
ACTIVESMART™ FOODCARE
ActiveSmart™ Foodcare learns how you live. It's technology which understands how you use your refrigerator and adjusts temperature, airflow and humidity inside to help keep food fresher for longer.
.
.